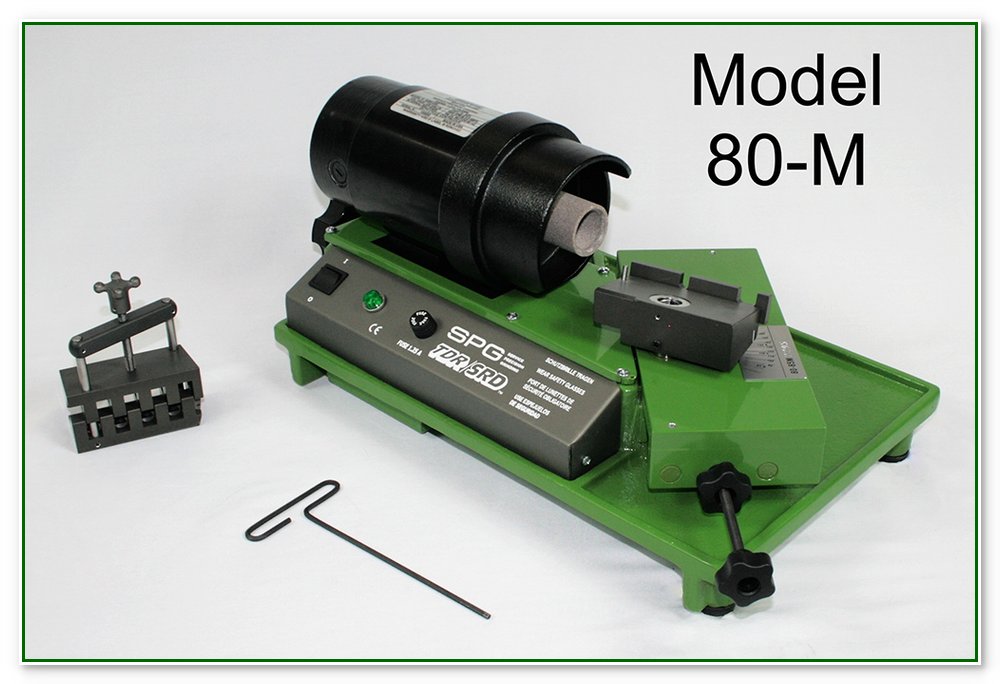 Model 80-M
TDR/SRD Drill Grinder
Grinding Range: R.H. Drills 1/16″ – 13/16″
FACTORY PRICE:
$1,605.00
Customize point angles and clearances to achieve the most efficient feed rates for your job!
The industries "WORKHORSE"
• Sharpens standard drills, center drills and R.H. drills.
• Quick web thinning. Sharpen high speed steel or carbide tooling
• Angle range 85 deg. to 160 deg.
• Drill point concentricity is .001″ Lip to lip
• Clearance angles 0 deg. to 20 deg. Extremely precise.
• Cast iron, aluminum & steel construction
• Totally enclosed motor
• Hardened and ground slide rails
• Drill size capacity and increased versatility varies with each model
• All models built to satisfy industrial quality standards
• Dimensions 10″W x l6″L x 8″H
• Made in the USA | Shipped via UPS | Weight 50 Lbs.
The 80-M Users Manual
Call 315-776-9602 to place your Order
Email Us for more details!
TDR/SRD Drill Grinder – Model 80-M
Model 80-M Accessories / Replacement Parts
Std Chuck for Drills 1/16 – 13/16 all Models (76 M 1580-P)
$282.00 ea
Chuck for Taper Shank Drills, 1/16-13/16 all models (76 M
1582-P)
$363.00 ea
120 Grit Silicon/Carbide for Carbide, 1-3/8OD (76 M 1750-P)
$92.00 ea
Fast Cut 60 Grit for HSS & Cobalt, 1-3/8OD (76 M 1760-P)
$26.00 ea
180 grit Diamond for Carbide, 1-3/8OD (76 M 1770-P)
$255.00 ea
180 Grit Diamond Wheel for Carbide 3/4OD (80 M 7770-P)
$248.00 ea
Std 90 Grit for HSS & Cobalt, 1-3/8OD (76 M 1790-P)
$26.00 ea
120 Grit for HSS & Cobalt 3/4 OD (80 M 7370-P)
$44.00 ea
Riser Plate + 80-M-7370-P (enhances relief on sm. drills) 80-M (7340-P)
$92.00 ea
LED Lamp all Models (LED)
$110.00
LEFT HAND DRILL OPTIONAL PACKAGE FOR MODEL 80-M (LHOP/M)
$145.00 ea
All Internet Prices are Manufacturer Pricing subject to change without notice!